Industrial Air Quality
Solutions
Air quality has a significant impact in the industrial sector as it's directly related to employee and process safety. The benefit is improved operational performance and environmental improvement by reducing potential outdoor contamination.
Bringing clean air to industry
Breathing clean and pure air should not be limited to opened environments. Healthy and safe air conditions must be ensured within the workspace in manufacturing plants and facilities. At the same time, it's a social responsibility for the industrial sector to reduce outdoor the amount of contamination generated. Air filtration is critical to ensure this.
Improved air quality for an enhanced and safer operation
AAF INDUSTRIAL AIR QUALITY SOLUTIONS
BGRS, Inc. founded in 1976, is a pioneer in solids handling, and portable combined abrasive blasting, dust collection and recycling systems for the paint industry. We have been active in the solids material handling and dust control equipment manufacturing since 1980. Our design and manufacturing facility in northwest Harris County has been serving the chemical, petrochemical, abrasive blasting, coating, manufacturing, food service, water and wastewater, energy conveyance, and pharmaceutical industries.
We have teamed with multiple industry partners in the development of prototype design systems for combined blast and recovery systems, mixing tanks, abrasive stripping systems, oilfield de-dusting and collection systems, and specialized air handling, dehumidifying, and temperature regulation systems. BGRS designed and manufactured an oversized blast room with dust control, abrasive and stripped material recovery, recycling, and classification for the US Air Force to remove coatings from combat fighters in preparation for application of new coatings.
In the early 1990s, BGRS also designed a computer controlled soft media dry stripping system for the integrated circuit (IC) industry to precisely remove excess conductive material from computer boards. This system allowed for the stacking of boards in 3-dimensions without the use of riser converters. The system was eventually patented by our client.
We also provide multiple clients with design and construction of double dump gate/airlock valves, mixing hoppers, silo bin vent systems, abrasive material classification systems, lime slurry mixing and delivery systems, and custom fabrication of fluid control devices and structural steel elements.
Our goal is to increase the safety of your facilities by supporting the prototype development of and providing dust collectors and de-dusting systems from 2,500 cfm systems to over 60,000 cfm systems. We have a proven reverse-pulse filter cleaning design with our built-to-order polyester felt cartridges with client-reported usable life frequently as long as 10 years.
Please view our other areas for details associated with each of our equipment and service offerings.
A comprehensive portfolio to meet your needs
The widest range of dust collectors designed to meet the challenges of the most demanding industrial applications while reducing your total cost of ownership.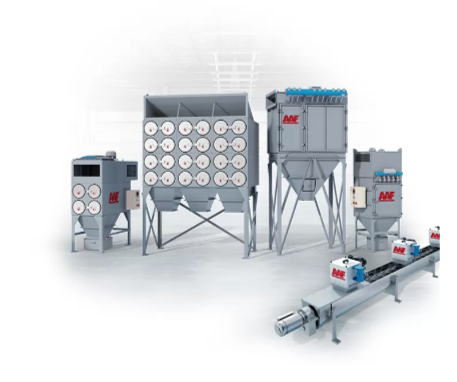 Highly efficient cartridge and bag solutions with simple maintenance, longer life cycle, and reduced compressed air usage.
A wide range of configurations, sizes, and filtration options to efficiently use the power of water for industrial dust removal.
Efficient for the removal of hazardous mist from machining processes ensuring space savings and a simplified maintenance.
Energy savings and excellent dust release ensured with our nanofibre leading technology and other superior performance medias.